Know Your Rights to Defend Your Condemned Property
There are a number of reasons why governments might choose to have private property condemned. Some buildings may have been worn down and therefore come to represent a potential danger to the community that surround them. Often another reason for a condemned property is that the property has been claimed under eminent domain, as it is the intended site for some new public works or economic development project.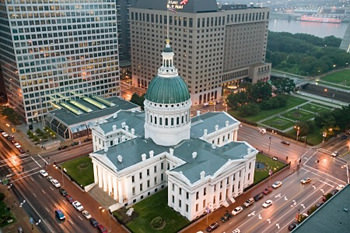 When a property is condemned, for whatever reason, as a private individual you are entitled to your own rights. It is important to know what these are if you intended to fight for your condemned property in the right manner. The Wallach Law Firm, located in St. Louis, Missouri extends professional legal services relating to eminent domain and condemned property law. We work closely with our clients to ensure that they remain well protected and receive the compensation they deserve.
To learn more about our services or for a consultation and review of your case, contact our eminent domain lawyers today at 314-997-4050.
How Can You Protect Your Condemned Property?
It is natural to feel helpless when governmental authorities inform you that your property is to be condemned. Condemned property law is not something with which the average individual is familiar. However, it is hugely important to understand that there are stringent procedures in place that need to be followed when dealing with condemned property. On many occasions, government agencies ignore or circumvent these procedures to expedite the seizing of condemned property.
Being knowledgeable about the regulations and procedures regarding condemned properties will automatically place you in an advantaged position as you look to fight for your property and rights.
The following are some common ways in which individuals may be exploited by government agencies, and the measures they can take to protect their properties, and in many instances, their livelihoods.
Any governmental or private organization is required to get approval from a judiciary official before a property can be condemned. In some cases, this procedure is likely to take extended periods of time for which government or private agencies are not willing to wait. If proper procedures were not followed, your condemned property may not be liable for seizing. Property owners should make sure that all necessary procedures were followed.
On many occasions, a condemned property will eventually end up in the hands of a private real-estate developer. This is especially true when eminent domain is used for economic development projects. However, in some cases, when eminent domain is used the project does not really have a direct public benefit as required by eminent domain law. Therefore, the condemned property cannot legally be taken. Individuals can use this as a defense to protect their right to a condemned property.
Government agencies and private developers often claim that property is to be condemned because it is in violation of community regulations or proper construction practices. Individuals can fight for their condemned property by conducting evaluations themselves, to verify whether claims have been fabricated, exaggerated, or overstated.
The Wallach Law Firm Can Help Save Your Condemned Property
The Wallach Law Firm in St. Louis is comprised of highly qualified and professional attorneys who have varied experience in eminent domain and condemned property cases. We have helped many of our clients dispute condemned property claims or receive the compensation to which they are truly entitled. When it comes to land and real estate, it is extremely important to protect yourself by hiring an eminent domain lawyer who is knowledgeable about the pertinent laws and industry developments.
Choose The Wallach Law Firm and Fight Condemned Property Claims Aggressively
If you have recently been a victim of a condemned property claim, it is important to ensure your rights are protected. Contact the professional attorneys at The Wallach Law Firm at 314-997-4050 for a review of your options and your case.