Choose Reputed Real Estate Attorneys from The Wallach Law Firm
Real estate appraisal, also referred to as property valuation, is a process whereby the value of a piece of property comes to be determined. There are a number of factors that affect the value of a property, as well the potential for this value to appreciate or depreciate. Unlike businesses or stocks, every piece of property is completely unique, and needs to be valued accurately to avoid future conflicts and issues.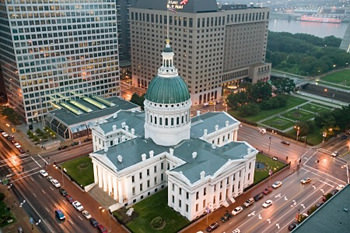 In the normal course of business, property transactions happen relatively infrequently, primarily because they require large investments. However, there are a number of techniques that organizations or individuals may use to exaggerate the value of a piece of real estate, thereby securing larger compensation when sold. The legal framework surrounding property valuation is extremely convoluted, which is why it is hugely important to hire real estate attorneys when purchasing property who can help you evaluate a piece of property accurately, so that you do not end up paying over the market value.
At The Wallach Law Firm, our real estate attorneys have extensive cumulative experience dealing with real estate and business litigation cases within the State of Missouri. We believe that acting proactively is most important to avoid future litigation disputes. We have served a range of clients since our inception over three decades ago in valuing their property effectively and handling any related property disputes.
To learn more about our services and for a free consultation of your case, contact our experienced real estate and eminent domain lawyers today online or by phone at 314-997-4050.
For What Purposes Do You Need Real Estate Attorneys?
At The Wallach Law Firm, our business attorneys believe in taking a methodical approach towards dealing with real estate litigation cases. We believe that accurate property valuation is the first step towards avoiding any sort of concern relating to real estate, ranging from property tax appeals to eminent domain/condemnation lawsuits. Also, the valuation practices that our real estate attorneys employ will ensure that you or your company gets the maximum out of a sale or acquisition.
There are a number of cases where our real estate attorneys can prove useful. These include:
Permits & Licensing: It is always recommended to hire professional real estate attorneys when dealing with alienation or alteration disputes relating to permits or licensing. The framework around real estate licensing is constantly changing, and our real estate attorneys will ensure that you or your company is abiding by all relevant rules and regulations to ensure you can obtain and keep any licenses necessary for your business.
Property Valuation: Property valuation is also essential for a number of reasons. Whether it is to determine the kind of rent that you can charge, or will be charged, when employing a piece of real estate for personal or professional use or determining fair property taxes, the importance of property valuation cannot be understated. From interpreting documents to gathering evidence for your claims, you can rest assured that our real estate attorneys' expertise will look out for your best interests.
Property Maintenance: Maintenance and repair is another important component of real estate law. From the onset of a rental agreement, it is extremely important to set parameters as to which party is going to be responsible for maintenance or repair. It is also valuable to devise pre-determined maintenance schedules that clearly allocate responsibility from the very onset. Our real estate attorneys can assist you in these matters.
What Else Can Real Estate Attorneys Help With
Beyond the scenarios mentioned above, our real estate attorneys are also adept at handling litigation arising from negligence or disputed lease agreements. Moreover, accurate property valuation becomes even more important when you or your business is attempting to secure new investment or looking to liquidate property. Other cases that our real estate attorneys have experience dealing with are those relating to tenant disturbance, security of tenure, and lease termination.
Equip Yourself with Experienced Real Estate Attorneys from The Wallach Law Firm
If you have recently found yourself embroiled in a legal dispute relating to a piece of property, contact the experts at The Wallach Law Firm today. One of our reputed real estate attorneys can review your case and begin exploring your options with you.