Zoning Law: Important Things Every Property Owner Should Know
Put simply, zoning law can be defined as a planning and development process undertaken by local governments to systematically plan neighborhoods. Zoning law is intended to ensure a uniform structure to cities, urban, and suburban areas. As part of zoning laws, certain rules apply to these areas that affect everyone who resides and does business here.
While it sounds like a simple process, there are many issues and factors that come into play when considering zoning and land use laws. Besides being a sometime complex city-planning tool, zoning law is constantly evolving and can be difficult to keep up with. Therefore, if you encounter issues with zoning laws, it is important to contact experienced zoning and eminent domain attorneys who can provide legal assistance and consultation.
The Wallach Law Firm in St. Louis is a law firm with over 40 years of experience serving clients in Missouri with real estate, zoning, and other related issues. Contact us to learn more about how we can help.
Things for Business Owners to Understand About Zoning Law
When starting or operating a business, people often overlook zoning laws. This is usually because they are focused on other issues such as costs involved in setting up the business, taxes, and other important details. However, while unintentionally overlooked, zoning law issues can become a major problem for a business of any size.
Zoning law affects different businesses in different ways. For example, an entrepreneur or business owner may need to consider a number of factors such as noise levels due to the operation of the business, parking spaces provided, the change in traffic movement, and other aspects that directly affect other people in the neighborhood. All of these things can be regulated by zoning laws.
Zoning Law and Home Based Businesses
Zoning law can be an important aspect to consider when starting a home-based business. There are some areas where any kind of commercial activity is explicitly not allowed. Therefore, your business, however small in scale, may be at risk of being shut down.
However, certain allowances in the way of variances and licenses can be obtained that allow you to operate a business out of a certain location even if zoning law says otherwise. In order to obtain these variances, one must submit and application. Next, the governing body will hold a public hearing that notifies and interacts with people in the surrounding area to decide on your application.
Other Zoning Law Concerns for Small Businesses
Another issue some businesses face when it comes to zoning law involves what type of business you are operating in a certain commercial area. While an area may be zoned for commercial businesses, there may be restrictions on the type of businesses that are allowed in an area. Even if other like businesses operate in an area, you should not assume zoning law allows your business there.
Some other things relating to zoning law that should be considered include:
Requirements for business to provide adequate parking spaces.
Regulations on the size and style of signs that you can put up.
Limitations on the language allowed on signs, for example using a foreign language on signs is not allowed in some areas.
Restrictions on physical changes you can make to the exterior structure of a building.
Learn More About Zoning Law in Missouri from The Wallach Law Firm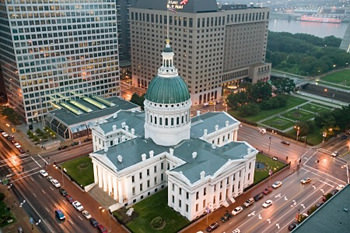 If you have concerns about certain zoning laws in your area or you need help requesting a variance or allowance from restrictive zoning law, it is important to contact an experienced attorney. The Wallach Firm, based in Missouri, is a group of experienced land use and zoning law consultants and lawyers. With experience of more than 40 years offering legal advice and services to clients throughout the state of Missouri, we are an excellent choice to handle any zoning law issues you may be facing.
Contact our St. Louis zoning law and eminent domain lawyers today to learn more about the services that we offer and for a consultation and review of your case.